Job Opportunities
Position: Assistant Professor
Yale University – Department of Applied Physics
Yale University seeks to recruit an experimental materials physics faculty member at the ASSISTANT PROFESSOR level to the Department of Applied Physics at the intersection of materials science and condensed matter physics. The anticipated start date is July 2019. The Department has a history of supporting high quality interdisciplinary research, blending together basic and applied physics and seeks creative teacher-scholars.  Candidates must have a Ph.D. in a relevant discipline and an outstanding record of research that demonstrates originality in addressing significant questions in basic and/or applied physics.  We expect a successful candidate to establish an active research group studying the physics of novel materials, be an interactive member of the faculty, participate in interdisciplinary research and training, and excel in graduate and undergraduate teaching.
Applicants should create a profile at http://apply.interfolio.com/54024 and upload in PDF format (i) a curriculum vitae (CV), (ii) a cover letter, (iii) a statement of research plans, (iv) a teaching statement, (v) up to five reprints of published work(s).  Applicants should also arrange for (vi) three reference writers to upload their letters of recommendation to Interfolio.
For further information contact apchair.office@yale.edu. Review of applications will begin on November 15, 2018 and continue until the position has been filled. Yale University is an affirmative action, equal opportunity employer. Yale values diversity among its students, staff, and faculty and strongly welcomes applications from women, persons with disabilities, protected veterans, and underrepresented minorities.
Position: Postdoctoral Fellow at the YQI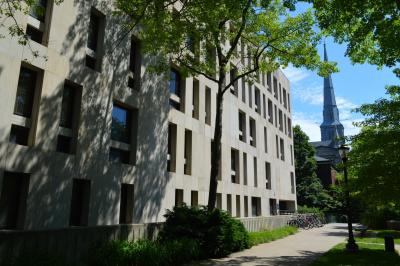 The Yale Quantum Institute (YQI), founded in 2014, serves as a forum to bring together experimental and theoretical researchers at Yale in the field of quantum information physics, quantum optics and nanophotonics, optomechanics, mesoscopic physics, quantum control, quantum measurement, and quantum many-body physics. It provides a synergistic and collaborative setting for Yale's cutting edge research in these fields. A recent report from University Science Strategy Committee identified quantum science as one of Yale's top priorities and recommends the expansion of existing Yale quantum efforts at a scale that will attract international attention and place Yale in a position of broad intellectual leadership.
In keeping with the mission of the YQI, we are pleased to invite applicants for the YQI postdoctoral fellowships. These Fellowships will support research in the field of quantum science for recent Ph.D. recipients in the group of any of the YQI faculty members. Candidates should have demonstrated excellent research ability in their prior work and exceptional promise for future leadership in their field of interest. Each candidate should indicate clearly which research group (or in special cases, groups) they intend to work with.
A selection committee will review each application and evaluate the candidates based on the quality of their previous work (thesis and publications) and their potential for original research, within their proposed research group. Finalists will be invited to campus to give a research seminar and interview with YQI faculty members, starting in February 2019.  Preliminary interviews may be conducted online as well. 
Qualifications
YQI fellowships are intended for researchers within 3 years of their Ph.D.
The research interest of the fellows should match those of the faculty mentors and fall into areas matching the mission of the YQI.
Non-US citizens must be eligible to obtain a J-1 Scholar visa status for the duration of the Fellowship. Non-English native speakers will be required to prove English language proficiency prior to award.
Terms of Appointment
YQI fellowships are granted for a period of 2 years starting generally at the beginning of the academic year, but alternative starting states can be considered.
The institute provides a stipend of $65,000 per year plus healthcare benefits, with an annual standard raise of 2% each year on subsequent anniversary dates.
YQI fellows receive an annual $5,000 discretionary research fund.
YQI fellows will have extra outreach responsibilities (e.g., contacting "YQI-sister institute fellows" at other universities and creating a network, organizing a conference or a workshop, or teaching a short YQI course) determined at the time of hiring.
All other aspects of the YQI fellowship position will follow standard Yale policies for postdoctoral appointments.  For more details, please check this website.
To apply, go to YQI Fellowship Application before January 4, 2019 at 9 am EST.
For more information, please email yqi@yale.edu, or call (203) 436-9153.